Designed to be a highlight of every baseball player's childhood, Branson introduces Ballparks of America! Transforming Branson into the latest and greatest includes remodeling the old Red Roof Mall into a Multi-Baseball Stadium version of Disney's Epcot Center. The establishment is already hosting players as it completes the final stages of construction.
The Vision
Most traveling teams participate in a number of regional tournaments however Ballparks of America will be a place where players, coaches, and families will have over the top experiences in size, scale, and quality. From traditional tournament to hybrid vacation it will truly be a one of a kind experience!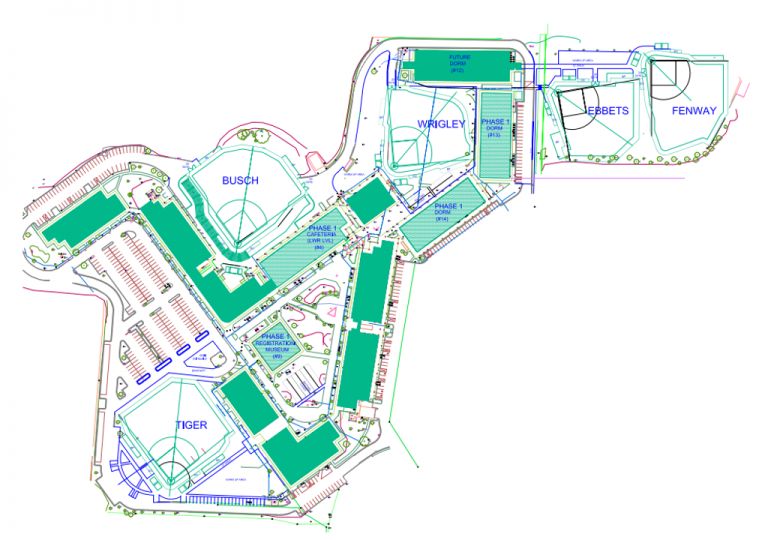 When teams enter the Main Street Promenade their coaches will register while the players enjoy concessions, merchandise shops, local and national vendor shops, and an arcade. Once checked in, a personal tour awaits them in which a Team Concierge will show them around the facility including a prelude of baseball history.
The fields at Ballparks of America will be reminiscent of nationally known parks such as Busch Stadium, Detroit Stadium, Wrigley Field, Fenway Park, Green Monster, and Ebbets Field. All of these 2/3 replica stadiums will be surrounded by buildings that resemble the neighborhood from where they came from. The facility will host numerous games and tournaments to include: Baseball Youth All-Star Challenge, Baseball Youth World Championships, Baseball Youth All-American Games, Baseball Youth Best of the Best, and Baseball Youth National Showcase. Best of all? Spectators and families are invited to come and cheer their teams and players on…free of charge!
Team Suites
Traveling teams will get to enjoy bunking together in a 1,000 square foot Team Suite. Each suite will be decked out in major league style with a 14-player bunk room, bathrooms, and locker room. Not to mention a clubhouse complete with lounge, TV, gaming console, and a semi-private room for coaches. Nearby teams will enjoy practice areas, bullpen mounds, and batting cages for all their pre-game warm-up needs.
More Info
To learn more call 847.920.8511 during regular business hours. Or check out their website for construction updates, registration, and upcoming tournament info.